Our Club Member of the Week this week is- Karen Hay ​ ! Everyone say hi to Karen ​! I hope you will enjoy getting to know her a little better!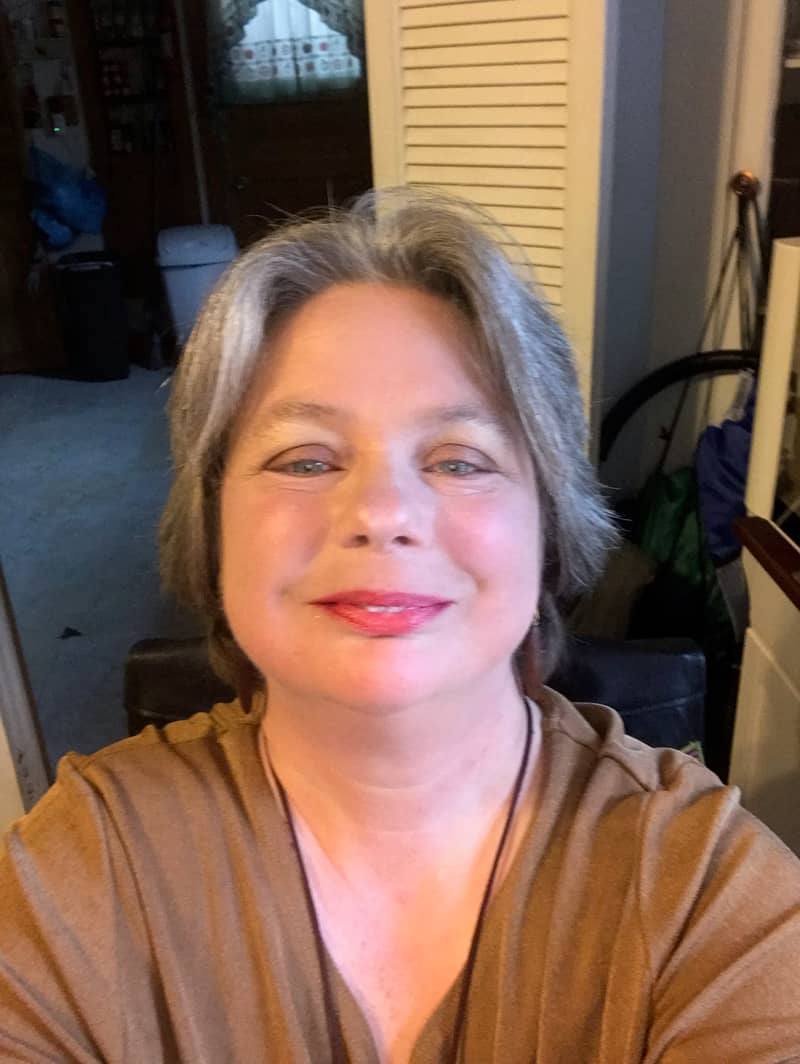 ​
​Your Name: Karen Hay
At what age did you start sewing/quilting?  7 years old with my mom, grandma and Oma 
What is your most favorite project you ever made and why? My hometown BOM because it was my first ever fully self-completed quilt.
Who or what inspired you to become a quilter? Sharlene Jorgensen from her 1990s PBS show Quilting from the Heartland. She got me interested in the seamless arc double wedding ring quilt, so I started one in 1997 to be done for my wedding in 2002…which has yet to be finished.
What color do you have a hard time using in your quilts and why? Pinks, because I don't really like pink
What color seems to always make its way into your quilts? Blues
Do you do other types of sewing besides quilting? I made my own wedding gown, I sew clothing of most types, home décor, kitchen items (potholders etc), basically anything 
Do you have other creative hobbies? Trying loom knitting. I used to cross stitch and plastic canvas, but since bilateral carpal tunnel surgery, those don't work so well for me
If you won a shopping spree to a quilt store, what is the first thing you would splurge on? Long arm and grace cutie frame
Did you name your sewing machine? Naci (I can backwards)
Favorite sewing gadget? My sewing machine
What treats do you indulge in while working in your sewing room? Wint-o-Green lifesavers 
What's your oldest UFO? My 22+ year old seamless arc DWR quilt.  I plan on having it pieced by my 20th wedding anniversary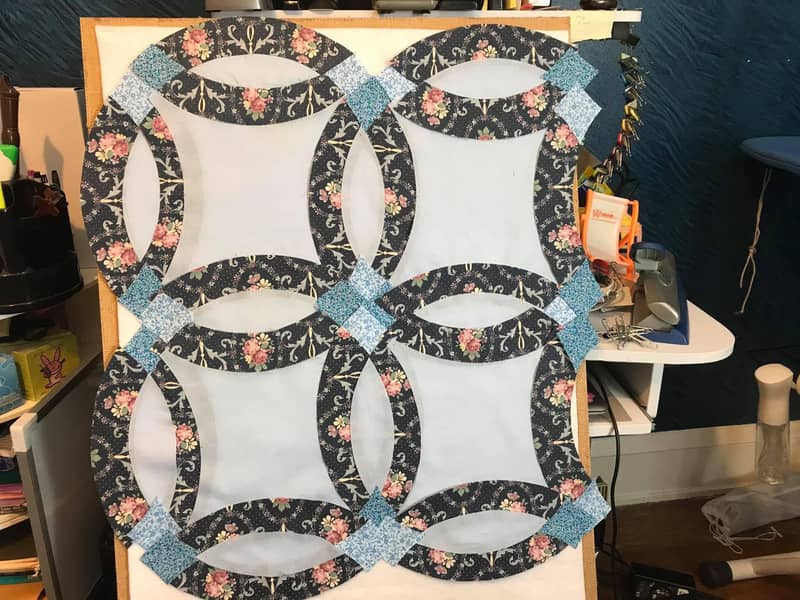 Your best sewing tip: Measure twice, cut once.
What is your favorite technique: Hand embroidery
What type of quilt or block is on your "bucket list" and why? Favorite, Ohio Star because I'm from Ohio. Bucket list, DWR 
Tell us about your family. Hubby (David) two grown sons (Matthew & Justin), one grandson (Pumpkin aka Johnathon), three kittens (Cleo, Niagara, Sabrina)
Where do you live, and what is your favorite thing about where you live? West suburb of Cleveland, Ohio called Fairview Park, Ohio. My favorite thing about it is I grew up here, about 5 miles away on the west side of Cleveland, and it is home.
Favorite vacation spot? Niagara Falls, Canadian side
20) Favorite food? Greek Rotini Salad
SALAD:
9 oz. Rotini noodles
2 tomatoes 
1 cucumber
1 cup green pepper
1 can black olives (sliced)
1 jar kalamata olives (sliced)
1/4 cup green onions 
1 Tbsp. dry parsley 
6 oz feta cheese
DRESSING:
1/2 cup canola oil (do not use olive oil)
2 Tbsp lemon juice 
1/2 tsp salt 
1/2 tsp pepper 
1/4 tsp oregano 
1 clove garlic
Cook rotini noodles, and drain with cool water. Combine lemon juice, oil, salt, pepper, oregano, and crushed garlic in a closed jar. Shake well until thick and creamy, then chill. Combine rotini, tomatoes, cucumbers, green peppers, olives, and parsley in large bowl. Just before serving, add dressing and feta cheese. Toss gently and serve.
Favorite television show? Lucifer
If someone made a movie about your life, who would play you? Drew Barrymore, because she's funny 
Are you a rightie or leftie? Rightie
Anything else you'd like to share: I was diagnosed with relapsing-remitting Multiple Sclerosis on December 13, 1995. I have just recently taken a turn for the worse in the last 3-4 years and am in the process of being "rediagnosed" with secondary-progressive multiple sclerosis.  MS, a new adventure every day! Woo-hoo