Our first Club Member of the Week this week is Bea Gagliano​.
Everyone say hi to Bea! I hope you will enjoy getting to know her a little better!
First Name: Bea Gagliano
Where are you from and where do you live now?: I was born and raised in New Jersey and lived there for 62 years. After retiring from 26 years of teaching art and digital photography, I moved to Missouri. I have been here now 9 years.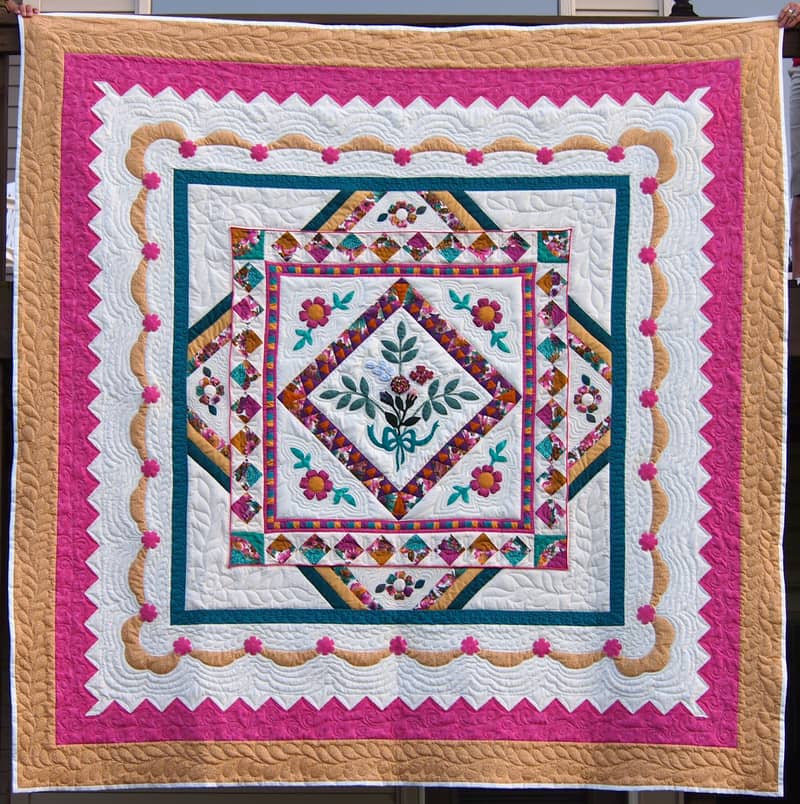 ​

​​What is your favorite project you've ever made and why?: My favorite project was a king size quilt that took me 20+ years to make. It did not start out as my favorite, but it was one of those projects that I hated a section and was not sure how to move past and complete the project. What was completed was my best work ever!
What color seems to always make its way into your quilts?: Pinks and teals
Do you do other types of sewing besides quilting? :I have made clothes for my kids when they were younger. I do occasionally make some costumes when going to Comic Book Conventions.
Do you have other creative hobbies?: As a retired art teacher, I have way too many creative hobbies….drawing, calligraphy, painting, Zentangle, photography, and the list goes on. There is not enough time in the day to do all I want to do.
What's your oldest UFO? Any tips on how you keep them from piling up?: Thankfully my personal UFO list is more or less up to date. Unfortunately, my mom past away two years ago and I have been working on all her UFOs she left behind. I have started using a bullet journal and keeping a list of the many projects I have to complete or start. When I look at my list, it keeps me motivated to accomplish by successfully crossing another project off my list. The only problem is that I also keep adding to the list which never really shortens.
What's your favorite creative outlet?: My creative outlet is my quilting! If I could, I would spend all my waking moments in my quilt room. Unfortunately, my house duties consume a lot of my daily hours. I always try and spend at least 30-60 minutes quilting every day.
Tell us about your family! : I have been married to hubby Frank for 48 years this year. We have 2 children. My daughter lives with us and my son lives in New Jersey with his new bride of 1 year. In addition to my daughter living with us, my 101 year old mother-in-law lives with us, which explains why quilting time is not always as long as I would like. I figure I need to live to at least 100 to get all the projects I want do.
What's your favorite food? : Oh my! – there are too many favorites….pizza, pasta, ice cream
What's your favorite TV Show or Movie?: My favorite tv show is M*A*S*H and favorite movie is "Mr. Mom". I could watch these all day, every day!
Do you have a favorite collection from The Art of Home Club?: Save the Bees was my favorite!