Our first Club Member of the Week this week is Kandy Hernandez
Everyone say hi to Kandy! I hope you will enjoy getting to know her a little better!
Name: Kandy Hernandez
Where are you from and where do you live now?: I am from Kirkland, Washington, a suburb of Seattle. I lived there until I was about 20 something when I went to Germany as a missionary and met my husband who was in the US Air Force. After we got married, we lived 4 different states and back to Germany before he retired from the Air Force and now we live in Spanaway, Washington about an hour or so south of Seattle. 
What is your favorite project you've ever made and why?: One of my favorite projects is a quilt I made for my dad out of his old ties. It is fairly simple, but he loved it. I was so happy I was able to get it completed and give it to him for Christmas 3 months before he passed away.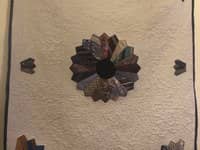 ​

What color seems to always make its way into your quilts?: I believe blue seems to be in most of my quilts. I don't know that it is purposeful, but it seems that those I make them for like blue.
Do you do other types of sewing besides quilting? : I have had several young adults who have had babies that I make self-binding blankets for out of Minky and usually flannel. I try to find out their theme for their babies room and get fabric for that. I have made some with super heroes, foxes, other little animals, and Winnie the Pooh to name a few. I also make cloth books for the babies and put crinkle paper in them and the littles ones love them. In the past I have sewn clothing, but at this point I am too busy between work and trying to find time to quilt. I have many UFOs!! 
Do you have other creative hobbies?: I love to cook and have done cake decorating. I also crochet and have done counted cross stitch
What's your oldest UFO? Any tips on how you keep them from piling up?: I don't really want to say what my oldest UFO is, but when I got married I bought some fabric and even cut it out to make a quilt for my husband and me. I have never finished it. Maybe when I retire I will have time and readdress it. I have to say I certainly did not know what I was doing with quilting at the time so if I do get back to that project I am sure it will be so much better than it would have been 36 years ago 
What's your favorite creative outlet?: I do think quilting is my favorite outlet. I love to buy fabric and think about what I am going to do with that fabric. On the other hand, if I am sitting around in the evening with family sitting and crocheting is also relaxing. I don't have to be separated from my family and I am still creating something. 
Tell us about your family! : I have been married for 37 years. We have three sons one who is back home after college while our second son lives across town and the youngest lives in California.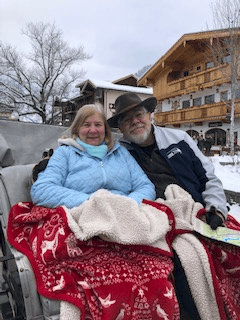 ​

What's your favorite food? : I like all foods, but I guess I would say I like Mexican food best. My husband has Hispanic heritage and I have learned to make tamales. One of our sons is vegan and I have learned to make vegan"chicken" enchiladas. 
What's your favorite TV Show or Movie?: This is a hard one as there are so many out there and it depends what is on at the time. Its a Wonderful Life has always been a favorite and cooking shows are also watched regularly.
Who's your favorite fabric designer?: I am just learning designers so I can't really say what my favorite is. 
Do you have a favorite collection from The Art of Home Club?: I have been a member for awhile, but due to work and health The Secret Fairy Garden will be my first completed project. I am looking forward to completing it. I have enjoyed doing the mug rugs and other exchanges​
​