Our Club Member of the eek this week is- Debra Combs​! Everyone say Hi to Debra! I hope you will enjoy getting to know her a little better!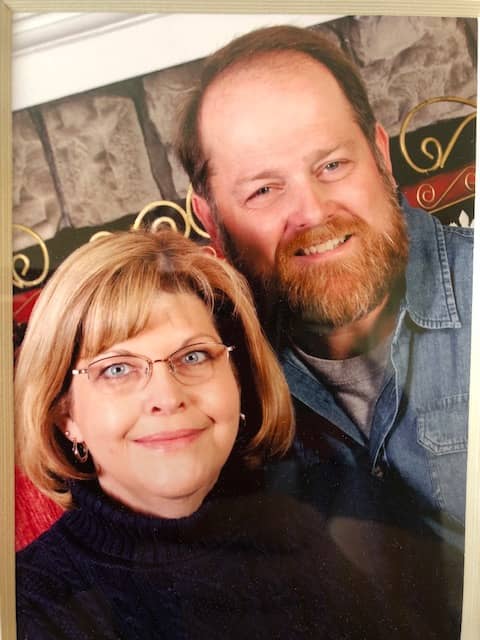 Your Name:Debra Combs
At what age did you start sewing/quilting? Sewing, age 9. Quilting age 58
What is your most favorite project you ever made and why? A buffalo panel quilt for my husband. James is very supportive of my quilting hobby (more like a habit), he enjoys little shop hops with me. Two years ago, we were visiting my brother in Denver, CO. James found this panel of buffalo butting heads, he bought it and asked me to make him a quilt!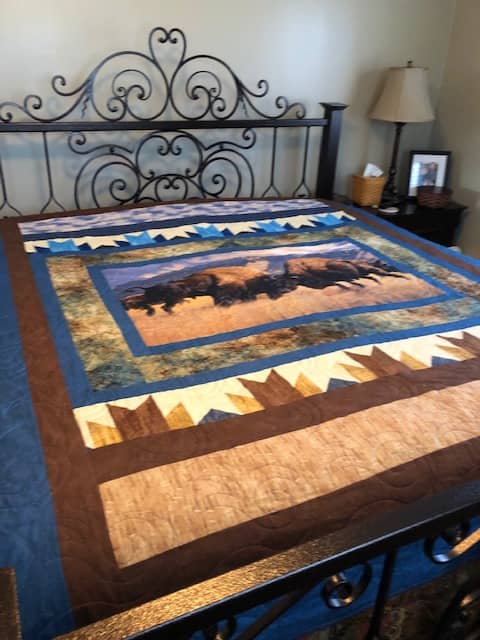 Who or what inspired you to become a quilter? This quilting venture was a birthday present to me, I took a quilting class on my 58th birthday and was hooked. My maternal Grandmother was a quilter and I have a couple of quilts she made me. I feel closest to my Granny when I'm in my sewing studio. I even named my longarm, "Nora" after my grandmother.
What color do you have a hard time using in your quilts and why? Orange, I'm just not a fan of orange.
What color seems to always make its way into your quilts? Blues and beautiful fall colors of anything but orange.
Do you do other types of sewing besides quilting? (clothing, home décor, etc.) I sew clothing and some draperies, but only for myself.
Do you have other creative hobbies? (cooking, knitting, painting, gardening….) Cooking and flower gardening.
If you won a shopping spree to a quilt store, what is the first thing you would splurge on? Quality machine needles and rotary blades!
Did you name your sewing machine? My longarm is Nora, Brother is Sally and Pfaff is Thomas.
Favorite sewing gadget? Binding needles, I hand finish my binding. A friend gifted me a pack of binding needles, I'm hooked! I'm not sure why they're so magical and somethings are best left a mystery, but I love them!
What treats do you indulge in while working in your sewing room? Payday candy bars, no chocolate, therefore no mishaps. Belvita breakfast crackers.
What's your oldest UFO? Two years old, Lori Holt's Vintage Farm Girl. It started as a class and was cut short due to COVID. I kind of lost interest, but I've added to my "must complete" list for 2022.
Your best sewing tip: Be in the right frame of mind and for me eliminate distractions, lock the door and turn off the phone.
What is your favorite technique (hand embroidery, hand applique, machine applique, etc.) Machine applique is my favorite, but I did one hand embroidery project this year. I did hand embroidery when I was in elementary school.
What type of quilt or block is on your "bucket list" and why? I want to do a Civil War sampler quilt. I love the colors of the Civil War quilts I've seen and enjoy the stories of the different quilt blocks.
Tell us about your family (children, grandchildren, fur babies, etc.) It's just my husband and myself, along with the shop cat that adopted us last year. We lost our 2 precious Cairn Terriers in 2020, this cat shows up and adopts us. She's so spoiled. We have no children or grandchildren, but some awesome nephews and a niece.
Where do you live, and what is your favorite thing about where you live? I live in Kentucky, and I enjoy the diversity of our state. We're centrally located, not far from Ohio, Indiana, and Tennessee. I enjoy the seasonal changes in the weather, if you don't like the weather sit tight, it will change in 15 minutes! LOL!
Favorite vacation spot? The mountains, Blue Ridge, Smoky, Teton, Rockies. Prefer the mountains over the beach.
Favorite food? Authentic Italian and good Italian wine!
Favorite television show? Yellowstone, Saturday mornings, Fons and Porter.
If someone made a movie about your life, who would play you? Melissa McCarthy!
Are you a rightie or leftie? Rightie
Anything else you'd like to share: Life is short, enjoy the moment!