Our Member of the Week is Marcia Lockwood. Everyone say hi to Marcia ! I hope you will enjoy getting to know her a little better!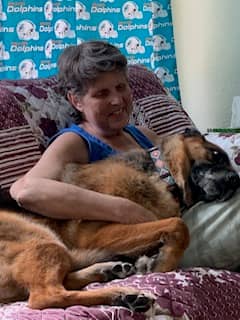 ​

​Name: Marcia Lockwood 
Where are you from and where do you live now?:I was born and raised in Jackson Heights Queens NYC. When I was 20, I moved to Miami and over the years have lived in various Florida cities. I have retired in Bartow, Fl. But I doubt this will be my final place.
What is your favorite project you've ever made and why?:I love working with wool because it can be as colorful and creative as you want. It's also very forgiving if ripping happens as it usually does. My favorite project though was an appliqué quilt by Sarah Fielke called Coming Home. My favorite because of how much I learned. Also why I've joined this club as well because I love to learn. 
What color seems to always make its way into your quilts?:Bright reds. Always always. I have few pastels which I get angry with myself because I need them in my stash and they are not there. Thank goodness some of the kits I've bought from this club has pastels in them. 
Do you do other types of sewing besides quilting? :I do all types of fiber art. I love threads and creating pictures with them. I enjoy a good quality quilters cotton. For thread I enjoy merino wool, valdani perls and Sulky Fralines ( without getting up to look at the right spelling). Embroidery and counted x stitch as well as English paper piecing are my favorites too. 
Do you have other creative hobbies?:I like to spray paint old metal items and use them as garden decor. Gardening, in the past, was really my favorite but health issues have muted that past time.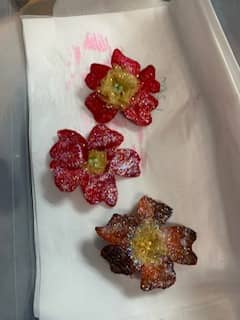 ​

What's your oldest UFO? Any tips on how you keep them from piling up?:My brother's quilt(2017). Projects for my brother always get thrown in the back. I finished one two years ago that was started 18 years before. He'll say something to irk me and in the back in goes. Also his grandchildren come first so I've made them several items ahead of his. 
What's your favorite creative outlet?:Hand appliqué! Love choosing little pieces of material to make a pretty picture. I can get lost for hours in a scene. The picture I attached is one from the Club Collection. I am making a transportation quilt for my grandnephew.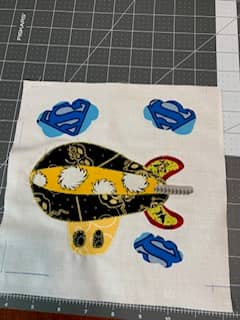 ​

Tell us about your family! :I have two daughters and a grandson. They all live very far away. My mother is 87 years old and still runs circles around me. My mother's only interests are sports. It was my grandmother who loved to stitch and bought my first machine which I still have. It was a Singer. Oh and my best friend …Hubby! Married 17 years and still have a good time. His name is Matthew. My youngest daughter is an environmental manager for a large international cement company I'm very proud of her.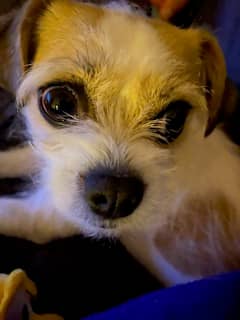 ​

What's your favorite food? :Steak and salad. I could eat it everyday but I already take enough cholesterol medication. 
What's your favorite TV Show or Movie?:I do enjoy the reality shows like 90 days etc. I also love documentaries on true crimes. I am a retired defense attorney. 
Who's your favorite fabric designer?:So many and it varies by what I'm doing 
Do you have a favorite collection from The Art of Home Club?:Frakur which I intend to buy immediately. 
Is there anything else you'd like to share??:When illness took me from my career I was so fortunate that creating with fabric and thread became a huge part of my life. Huge! I love the bold prints and colors. It makes me happy to start and finish all types of projects. I have met wonderful people through Facebook groups and always look forward to seeing other people's creations. I do wish the stitching world would become a little bit more diversified. Not such a "women's only" club. I'd like to see more patterns designed with men in mind. Maybe a shark scene or a few bears that aren't teddy. The stigma of stitching is a girly thing needs to go. Thanks for all you do!