Our Second Member of the Week is Jeanette Sanger!

Let's say hello to Jeanette & get to know her!
First Name: Jeanette Sanger
Where are you from and where do you live now?:Grew up in Topeka , Ks and moved 30 miles northeast to Lawrence, Ks. Home of the KU Jayhawks Basketball champions.
What is your favorite project you've ever made and why?:I made a Peter Rabbit quilt using color book pictures to tell the story. I embroidered and used fabric crayons to fill in parts of the picture. I had Peter rabbit fabric for borders. I made this for my first Grandchild.
What color seems to always make its way into your quilts?: Blues, greens
Do you do other types of sewing besides quilting? :I enjoy embroidery and incorporating that into other sewing that I do.
Do you have other creative hobbies?: Sewing dresses for grand daughters and shirts for grandson.
What's your oldest UFO? Any tips on how you keep them from piling up?: I am sure there is but can't think what it is.
What's your favorite creative outlet?: Embroidery
Tell us about your family! :I am married to Stan and he is the best there is. We have 3 children. 2 are married and we have 4 grand daughters and one grandson. Ages 8-2.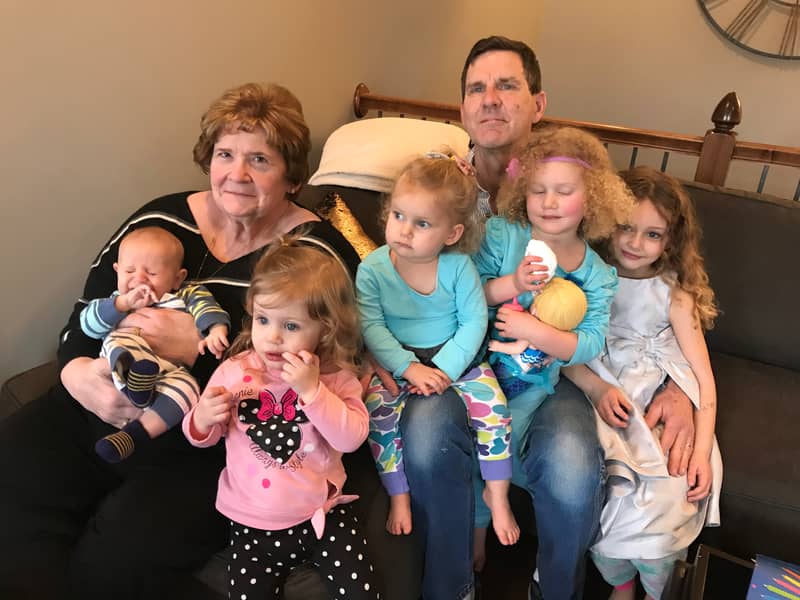 What's your favorite food? :Mexican
What's your favorite TV Show or Movie?:Movie : Sabrina
Who's your favorite fabric designer?: Spoon flower fabrics
Do you have a favorite collection from The Art of Home Club?:Not yet
Is there anything else you'd like to share??:I haven't done real fancy quilt patterns yet . I make items for church sales and gifts for family.​