Our Second Member of the Week is Janet Monnett !

Let's say hello to Janet & get to know her!
Name: Janet Monnett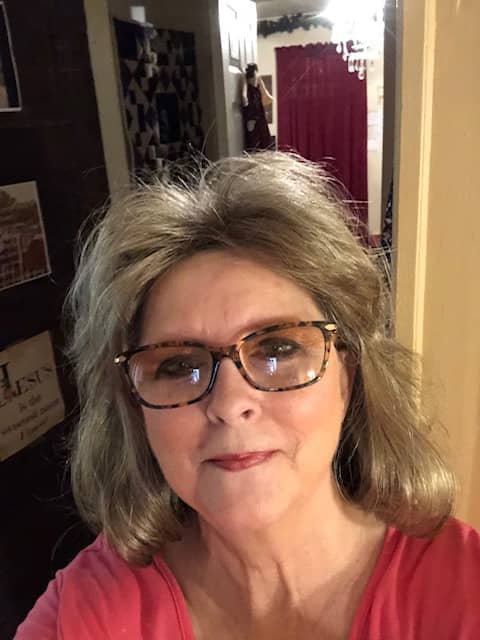 Where are you from and where do you live now?: I am from Indiana. I am still a resident of Indiana. I live in a small town that is very friendly.
What is your favorite project you've ever made and why?: The Dear Jane Quilt is my favorite project I have ever made. It challenged me while I improved my skills. It was also a family quilt in that my husband and youngest son were involved in helping me choose fabrics and loved my blocks!
What color seems to always make its way into your quilts?: It used to be red, brown and tan but, the past few years I am using more pinks, greens, cream and oranges.
Do you do other types of sewing besides quilting? Quilting is my passion. I do also sew curtains, clothing and home dec.
Do you have other creative hobbies?: Yes, I enjoy crochet, slow stitching, embroidery, card making, and general crafting.
What's your oldest UFO? Any tips on how you keep them from piling up?: Shamefully I have one that is fourteen years but, it's headed to the quilter in August! I try to sew daily. I have about ten to twelve quilts going at a time. I keep them in project boxes and use a planner to keep me organized and finishing.
What's your favorite creative outlet?: Quilting or anything that lets me find my happy place.
Tell us about your family! : I have my dear husband, four children all grown ranging from 50-28. I have nine grandchildren and eight great grandchildren. I love my family very much.
What's your favorite food? :Pasta
Who's your favorite fabric designer?: Sherri and Chelsea, Cory Yoder, and many others.
Do you have a favorite collection from The Art of Home Club?: I was in Art of Hone a few years back. Silver Lining and the garden theme where I made flowers and butterflies
Is there anything else you'd like to share??: I'm very happy to be back in the Club. You get so much more than what you pay for. I love the collections!! I just finished block one of the Fairy Garden! Looking forward to many fun projects.
​