5-10-21
Our Club Member of the Week this week is- Jamee Cofer ! Everyone say hi to Jamee ! I hope you will enjoy getting to know her a little better!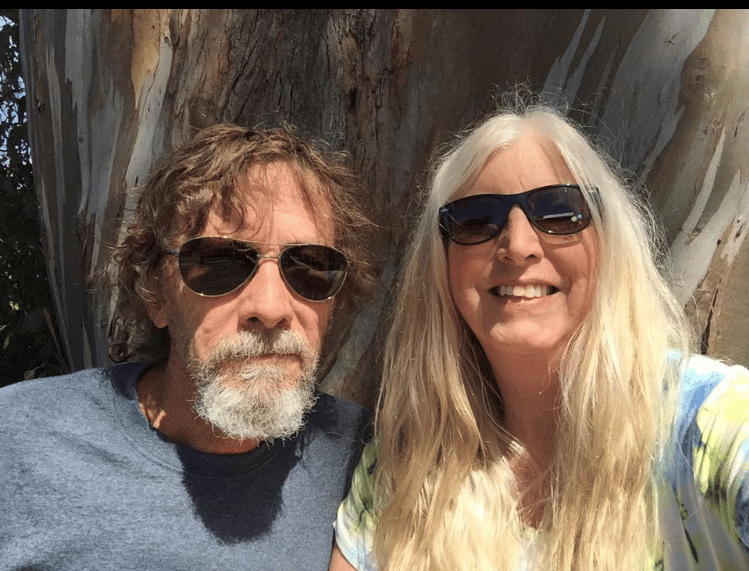 Your Name:  Jamee Cofer
At what age did you start sewing/quilting? I hand sewed Barbie clothes when I was 8 then machine by 14.
What is your most favorite project you ever made and why? Glow in the dark Halloween quilts I made 4 for my grandsons. They were not hard but they loved them.
Who or what inspired you to become a quilter? My mother could sew anything. I could show her a picture she would take a few measurements and get paper sacks out and make a pattern. Within a few hours she could perfectly duplicate it. But she didn't quilt. One of my first quilts I  made her a double Irish chain quilt and she was in awe. It was the highlight of my quilting.
What color seems to always make its way into your quilts? Blues and purples. I love all things beachy.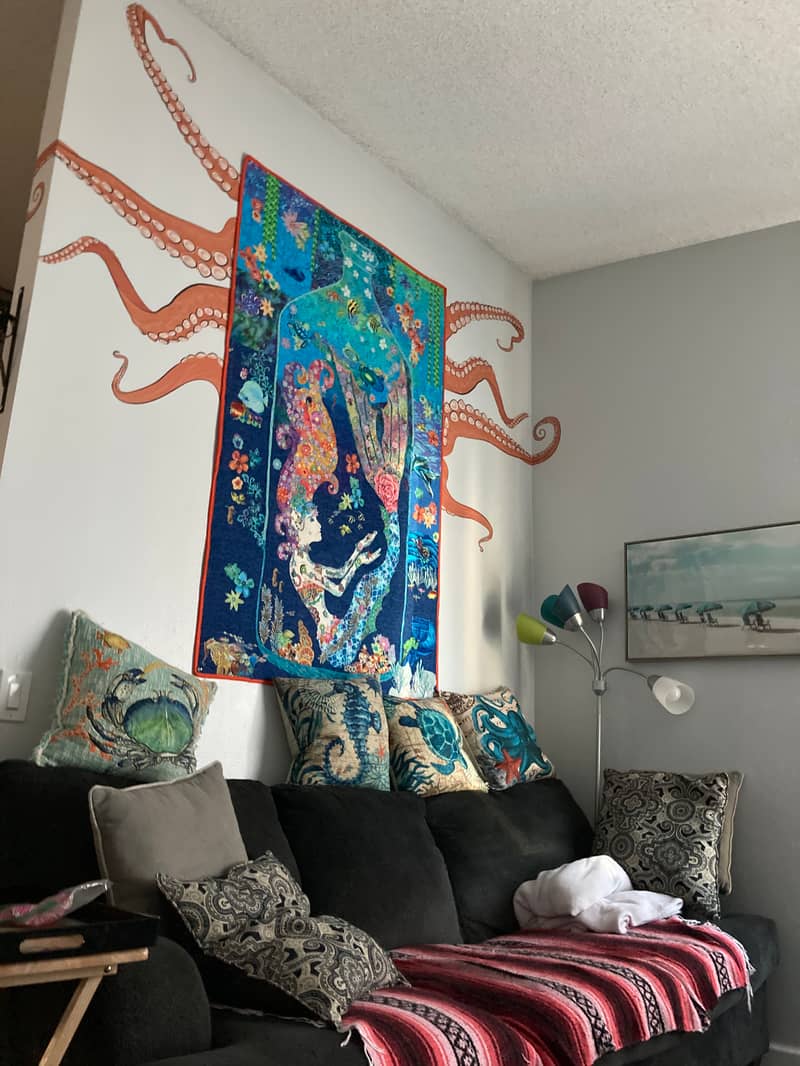 Do you do other types of sewing besides quilting? (clothing, home décor, etc.) I love to collage quilt. It's so creative also handbags and totes.
Do you have other creative hobbies? (cooking, knitting, painting, gardening….)
I'm working on a large fairy garden . Making houses and accessories. I like crafting different things.
If you won a shopping spree to a quilt store, what is the first thing you would splurge on? Quilting machine . I have a friend who is kind enough to allow me to use her sweet 16. I would love to own one someday.
Favorite sewing gadget? Lighted seam ripper
What treats do you indulge in while working in your sewing room? Coffee 
What's your oldest UFO? I started 25 years ago a pineapple wall hanging. It has little fishing theme squares in the center. I was going to use my dad's old fishing lures hooked in the center of each square. It was hard at the time and I have been meaning to give it another try because I have a lot more experience now. Someday
Your best sewing tip: Using a1/4 inch foot or marking with several layers of blue painters tape on your machine plate to get that 1/4 inch seam allowance. Makes for beautiful quilt.
What type of quilt or block is on your "bucket list" and why? I just started a Celtic knot quilt for my oldest son's birthday. It has several different knots in it and I'm designing it myself. So his birthday is in August so that's top of my list.
Tell us about your family (children, grandchildren, fur babies, etc.) I have been blessed with two boys and a daughter. All grown and they blessed me with 4 grandsons. All 10 and under. I have taught my oldest grandson to sew the highlight of my life! I'm also a pug lover and my current baby is Lola.
Where do you live, and what is your favorite thing about where you live? Las Vegas, Nevada. Not gambling lol. I love the mild weather. Yes it gets hot during the summer but I have a pool and good air conditioning. It's beautiful here. You have Redrock canyon and surrounding mountains.
Favorite vacation spot? Pismo beach California. I'm originally from California and have spent a lot of summers in Pismo . Last of old beach towns.
Favorite food? Mexican I love it all. I eat it at least twice a week.
Favorite television show? Wow.. everything from blacklist to game of thrones oh and Men in kilts lol
If someone made a movie about your life, who would play you? Well she'd have long white hair and be sassy and a little hippie.
Are you a rightie or leftie? Rightie
Anything else you'd like to share: I love to create and try new things. I have more fabric and patterns than I'll probably ever use. But they are so pretty.