12/29/20
Our Club Member of the Week this week is- Dee Tighe ! Everyone say hi to Dee ! I hope you will enjoy getting to know her a little better!
At what age did you start sewing/quilting? 63 This year. It is all new to me. I was an HST (Human Service Technician) in the Mental Health Unit. HAHA! Not anymore. I had to learn how to thread the machine and what a bobbin is. So I am very new to sewing, a true beginner.
What is your most favorite project you ever made and why? I joined three beginner groups online during this virus and Jacquelynne's group was the most supportive to a newbie like me. So I joined this group and hope to continue to learn. I hope the Fa La La is my first completed project.
Who or what inspired you to become a quilter? My friend, Amanda in Michigan started quilting about 5 years ago. She made my grown son a T shirt quilt. He loved it.
What color do you have a hard time using in your quilts and why? Don't know. Have not made a whole quilt yet.
What color seems to always make its way into your quilts? Royal Blue. If I get to pick a color.
Do you do other types of sewing besides quilting? Never sewn before.
Do you have other creative hobbies? I have made a few flower arrangements, walking, reading, and decorating the house.
If you won a shopping spree to a quilt store, what is the first thing you would splurge on? I don't feel like I know enough to make a choice. If I have to chose, a kit to make something.
Did you name your sewing machine? Jazzie- She is a Janome.
Favorite sewing gadget? Suzie, my seam ripper. I have a lot of errors. I am learning by mistakes.
What treats do you indulge in while working in your sewing room? Coffee, Aldi's peach Ice Tea and wine.
What's your oldest UFO? Last year I joined a sewing group that was a beginner's quilting group but had to quit because my BP was high and the drive was an hour away. I have lost 20 pounds and am down to one BP pill a day. I am trying to lose the 2nd 20 pounds but it is a slow process. I have that quilt but the classes have not resumed due to the virus.
Your best sewing tip: Take it slow and walk away from the sewing table when you don't do it right. Don't get frustrated. This is for fun and relaxation. Work in small segments of time. Slow and steady wins the race.
What is your favorite technique? Being able to sew a straight line on Jazzie. I would like to try machine appliqué but not sure if I have the skills to do it yet.
What type of quilt or block is on your "bucket list" and why? I would like to make the Gnome, but appliqué maybe to hard for me at first. I really need to learn how to put the blocks together, bind, put in the batting etc or how to finish a quilt. I will take it slow because I have to try to finish the blocks for the other 2 groups by the end of December. Then I will only have this group! Looking forward to participating in this group. I liked the idea of making small wall hanging in December.
Tell us about your family (children, grandchildren, fur babies, etc.) I am married since 1988. I am 63 and retired. I worked at the psychiatric hospital as a Behavior Specialist, a Counselor, Mental Health Director, and Unit Manager in the prison system. Worked with people with disabilities to assist them in job placement or college to obtain the knowledge to get a job. I was also an MH evaluator in the ER to place clients in detox or psychiatric hospital for treatment. I was also a substance abuse counselor. I was on the board for our local library and am currently on the board for a Learning in Retirement group. My son is 27 and is a structural engineer for Boeing. He worked on the unmanned and manned space capsule, the Starliner. He is currently working on satellites. He resides in Long Beach CA and I live in Milledgeville Georgia. I have a mixed breed pit that was dumped with her 4 brothers when they were puppies. She is three years old and very sweet. She has a big bark but is all mouth. She is a good listener. My hubby is still working and is a construction supervisor.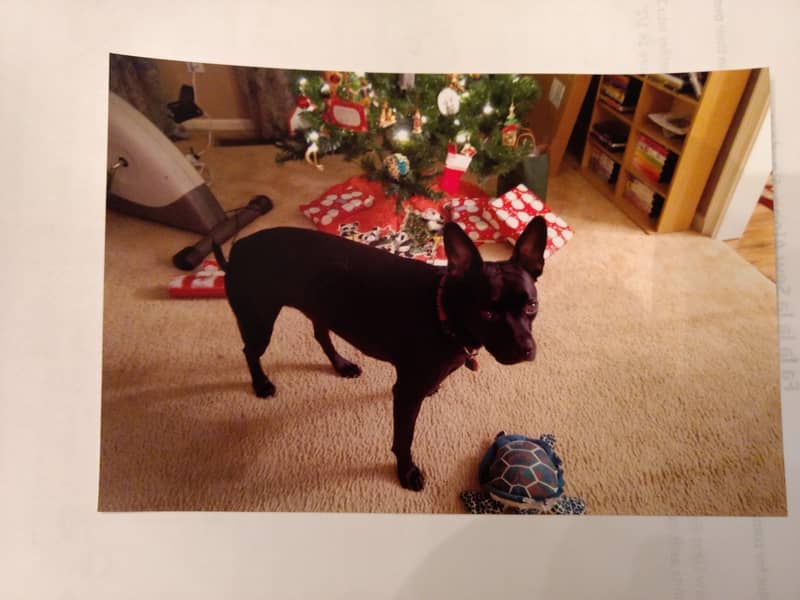 Where do you live, and what is your favorite thing about where you live? I was a military brat so we moved a lot. I live in Milledgeville GA about 2 hours from Atlanta or 30 minutes from Macon. It is a small town but my friends are great. We go out to lunch, enjoy the theater (go to the Fox in Atlanta) and enjoy field trips. I enjoy the book clubs and one club continues to meet monthly on zoom. I would love to travel more.
Favorite vacation spot? Long Beach CA. This is where my son lives. I have been there three times. He moved into a house with 3 roommates and loves California. I would love to see his new home in person.
Favorite food? Potato chips or Veggie nachos with queso.
Favorite television show? I enjoy Netflix. I enjoyed Dolly Parton's Heart Strings but do not really care for country music. I like the show Bull and Law and Order SVU. I also enjoy This is Us.
If someone made a movie about your life, who would play you? Mariska Hargitay, who plays Olivia Benson. She gets the job done but is kind and caring.
Are you a rightie or leftie? Rightie.
Anything else you'd like to share: I love how friendly and supportive this group is. When you ask about something, you are helpful. Even if I ask a dumb question to an experienced person, the group is truly kind and caring! You can't fake that!
Would you like to be featured as our Club Member of the week? We love getting to know you all! If you would like to be a Member of the Week, please fill out this profile and send it back to us! We publish our Member of the Week in the order that they are received!